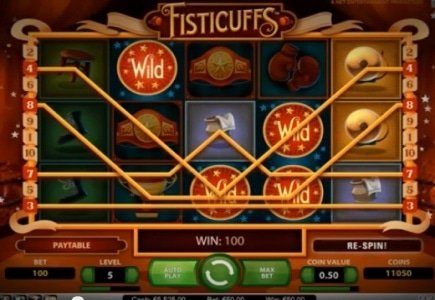 Today's launch of the online video slot Fisticuffs by Net Entertainment attracted a lot of attention as the company representatives promise loads of fun to players who decide to try this innovative and original game.
Fisticuffs online slot features two fighters on the reels, at a time when boxing was bare-fisted back in the early 1900s. These two opponents together create a number of Wild symbol combinations.
"Fisticuffs is another top addition to our online video slots catalogue and players are going to have a lot of fun on the reels. The Wild combinations offer players a great opportunity for some massive prizes which is one of our core missions every time we create a video slot," said chief product officer Simon Hammon on Tuesday.
Reel 3 features the Straight Wild that's activated when a Diagonal Wild appears on the same row. The boxer then hits it to either reel 1 or 5, which in turn changes every symbol in its path into an additional Wild symbol.
Diagonal Wilds focus around reels 2 and 4, where should 1 or 2 Diagonal Wilds appear next to a Straight Wild, the Diagonal Wild hits the Straight Wild to change a symbol above or below the Straight Wild into an additional Wild.
Enriched by this interesting game of symbols, Fisticuffs video slot brings a breath of fresh air to the summer slot offer.