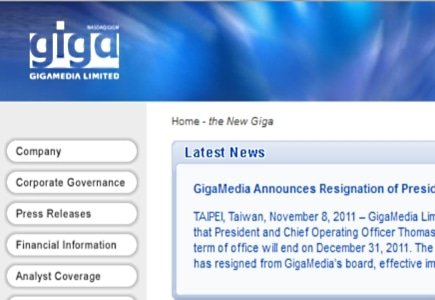 Following a closed beta test on a set of new games in over 200 Internet cafes nationwide, the Taiwan-based online gambling corporate GigaMedia Limited has announced its plans to enter the social casino games market.
A new portfolio of proprietary social casino games to be launched includes slot, poker and dice offerings.
The company's statement announces that commercial operation could begin in as little as four weeks by offering the initial social features in the game suite including virtual gifts and a group chatting function.
"Results of the new casino products initiative in Taiwan's Internet cafes will be used to support development and launch of additional social casino offerings across multiple platforms near the end of 2013," the company stated.
Collin Hwang, CEO of GigaMedia commented on the company's expanding portfolio:
"Social casino games are one of the fastest growing and most profitable segments of online games. With social casino games generating average revenues per unit nearly double those of other social games, increased sector focus will play a key role in driving growth of our FunTown online game operations in 2013 and beyond."
"We plan to leverage our expertise as a developer and operator of PC-based Asian casino games to create new offerings for mobile and tablet devices, building a strong multi-platform offering," Hwang said.
Announcing possible partnerships, GigaMmedia CEO concluded: "We are also reviewing potential strategic partnerships and acquisitions that would enable us to accelerate our growth in social casino games."