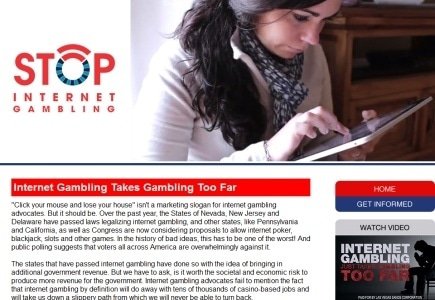 It seems that attacking internet gambling community in the Forbes and Bloomberg publications was not enough for the land gambling mogul Sheldon Adelson (80), who has further widened his assault by launching an anti-online gambling website and an accompanying Youtube video.
The website titled StopInternetGambling has been launched by the owner of Las Vegas Sands Thursday and is expected to attract more reactions from the online gambling supporters.
" 'Click your mouse and lose your house' isn't a marketing slogan for internet gambling advocates. But it should be. Over the past year, the States of Nevada, New Jersey and Delaware have passed laws legalizing internet gambling, and other states, like Pennsylvania and California, as well as Congress are now considering proposals to allow internet poker, blackjack, slots and other games. In the history of bad ideas, this has to be one of the worst! And public polling suggests that voters all across America are overwhelmingly against it," reads the introduction published on Adelson's website.
Among other things, the website includes a call for a federal ban on internet gambling as a way of combatting this "threat to society".
The video that Las Vegas Sands posted on Youtube focuses on the alleged dangers arising from the accessibility and convenience of online gambling and "warns" players that operators target both the young and the elderly.
In light of the numerous reactions from the business and industry experts who support online gambling in the US, it appears that Adelson's campaign against online gambling has been initiated much belatedly. Among those who have acknowledged the potential of properly regulated and licensed online gambling in the United States is the American Gaming Association, which also favors a federal "online poker only" solution.