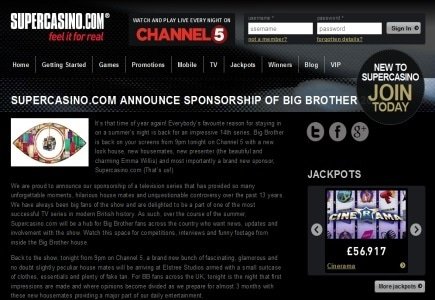 SuperCasino.com, operated by the UK's NetPlay TV plc, is the official headline sponsor of Celebrity Big Brother 2013 airing from 22 August 2013 to 13 September 2013. This is the second serious sponsorship deal for NetPlay.
SuperCasino.com ads will be shown from 9pm during Celebrity Big Brother and its support programming both online and on demand.
Charles Butler, CEO of NetPlayTV, said:
"The sponsorship deal with Big Brother is already showing positive results, and illustrates the fact that TV airtime, a key element of our marketing strategy of targeting new customers, remains highly effective.
"We are confident that the sponsorship of Celebrity Big Brother will continue to accelerate our customer reach and brand awareness."