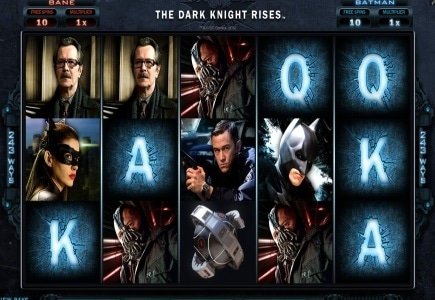 You've been waiting for it and it's finally here. It's Microgaming's "The Dark Knight Rises", the sequel to "Dark Knight".
The software company has a licensing agreement with DC Entertainment to use the name and graphics from the popular Warner Bros. film. The characters, audio and video clips are included in the slot.
Microgaming spokesmen said that they were required to push audio-visual boundaries in developing this slot game to capture the action packed excitement in the movie.
The film footage was studied by game developers to nail the Batman and Bane fight sequences and capture it in the online slot.
The slot game is live and available for download, Flash and Quickfire platforms.
Roger Raatgever, CEO, Microgaming, said Friday: "It is always very exciting to be launching a game sequel, especially when the first instalment has become such a success.
"Our game development team have done an incredible job. The slot fully embraces the Batman brand and pays justice to the film whilst also incorporating a series of pioneering features to enhance the player experience. Batman fans will not be disappointed; we expect The Dark Knight Rises online slot to be just as popular as The Dark Knight, if not more."