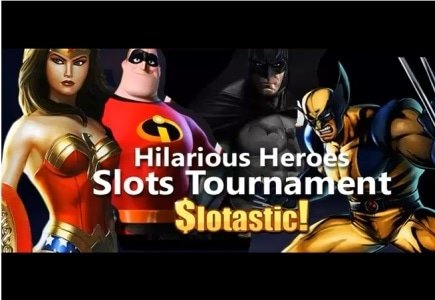 In celebration of Hilarious Heroes, Slotastic Casino is running free roll slot tournaments this September. Mr. Incredible, Wolverine and Wonder Woman Guaranteed Tournaments offer $500 prizes with a finale of $1,000 Guaranteed Batman Tournament.

Hilarious Heroes Slots Tournament Schedule:

Mr. Incredible $500 Guaranteed

September 6 – 12

Game: Loose Caboose


Wolverine $500 Guaranteed

September 13 – 19

Game: Triple Twister


$500 Wonder Woman Guaranteed

September 20-26

Game: T-Rex


$1000 Batman Guaranteed

September 27 – October 3

Game: Texan Tycoon

Players will be given 5,000 credits and 5 minutes to get the highest score and reach the top of the leaderboard. As for the $1,000 Batman Guaranteed Tournament, players will start out with 7,000 credits and 7 minutes.

The tournaments are absolutely free to enter and as if this isn't juicy enough, there will be a 25% up to $100 casino bonus throughout the promotional period. The bonus code may be obtained on the casino's Facebook page. Facebook Friends may also win one of three $70 coupons up for grabs every week in September by posting their favorite super hero on the page.