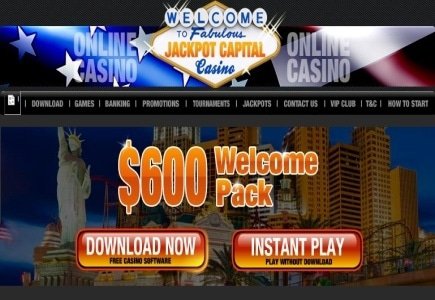 An anonymous US player had one heck of a week at Jackpot Capital winning $1.97 million in jackpots according the manager Oliver Smith.
The RTG slot games proved to be quite lucrative for the East Coast computer industry worker. She deposited a small amount and won $630,000 on the Vulcan slot game immediately followed by just over $12,000 on Builder Beaver but she didn't stop there.
As the week progressed she has won nearly $2 million which she plans to put toward investments, helping friends and family, home renovations, and paying down personal debts and mortgage obligations.
"I typically play Builder Beaver, Achilles and Spirit of the Inca, and sprinkle in some video poker," she told casino management. "I had played Vulcan a few times with not much luck even though I really like the game. But this time big surprise – now I love it!
"When I saw that I'd won over $600,000 on that one spin I literally said out loud 'No way!' Looking at the screen in disbelief, I actually felt sick for a brief second, to be honest. I just walked around going OMG there is no way that just happened!
"Then I started thinking about the fact that I could pay off everything, help others I want to help, and buy literally anything I need. I have some specific people I want to help, including my parents and a few close friends. I am thrilled to be able to do that."
"I've played at Jackpot Capital for a couple of years now. I'm a Platinum VIP member. I kept telling my friend 'One day I'm going to do it!"
"I had no luck for the longest time, and this time I won with a $40 starter deposit."