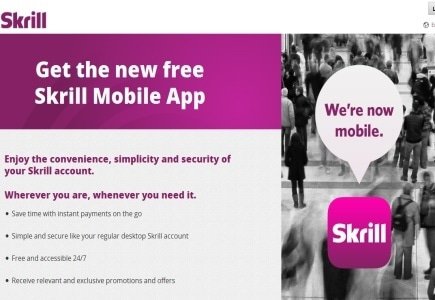 Skrill launched its new mobile app for Android and iOS platforms making it easier for users to access digital wallets and payments.
The new app simplifies sending and receiving funds and users will also have access to transaction history. VIPs and merchants will be able to toggle between accounts with ease.
To access your Skrill account, there will be a five digit pin number eliminating the requirement to enter log in information each time.
Mark Carter, VP of Mobile at Skrill said:
"All the features of our new mobile app have been designed to enhance the customer experience and simplify the process of money management on the move.
"Merchants will also benefit as they gain direct insight into customer behaviour in order to tailor offerings accordingly. The app will help with the acquisition of new customers and these customers should enjoy the compelling new user experience.
"Mobile payments innovation forms a key aspect of our future plans at Skrill. We recognise that relevant and smooth payment experiences present a huge opportunity to provide consumers with an optimised mobile payment solution and enable merchants to build a closer understanding of their customer base, whilst significantly increasing mobile payment conversion rates."