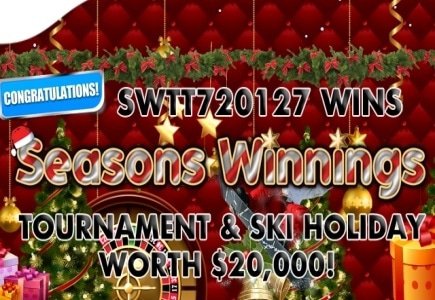 It's that time of year once again when the holidays warm our hearts and just may line your pockets as Casino La Visa and Red Flush Casino prepare to kick off the "Seasons Winnings" tournament with $300,000 up for grabs!
"We are so ecstatic about this year's Seasons Winnings tournament coming to Casino La Vida from the 2nd of December 2013 till 12 January 2014" said Casino La Vida promotions manager Victoria Lamonte.
"Seasons Winnings is an all time favourite festive season extravaganza where La Vida players are often showered with cash, giveaways and great prizes and I'm thrilled to know that the tournament is on its way for another year" she said.
"We at Red Flush Casino urge players to register for this tournament as quick as possible so much that were willing to give the first 1000 entrants an awesome 100 points to spend as they wish" said Red Flush casino promotions manager Alex Roberts.
"We also hope players are ready this year round because it's bound to be better than ever" he said.
The first 1,000 players at each casino to register for the tournament will receive 100 spending points.
Visit the casino lobby to register with just one click. There will be 4 weeks of qualifier rounds featuring loads of bonuses and promotions followed by a two week final.
The Seasons Winnings grand prize is $20,000 with registrations starting on 27 November 2013 so don't wait! We wish good luck and Seasons Winnings to all of our members that take part in this festive tournament.