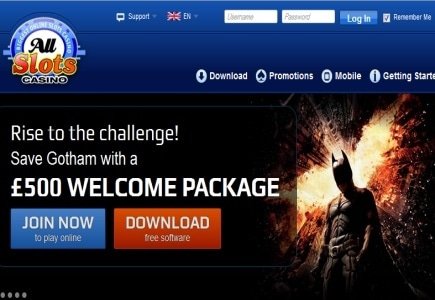 All Slots Casino player, Matej B, took a chance on Caribbean Draw Poker betting €4 per hand when he was dealt a Royal Flush and won a €594,923 jackpot!
Caribbean Draw Poker made its debut on All Slots Casino in December 2010 and Matej is the first to win the poker progressive on this game not to mention that his win is the largest since the casino's launch in 2001.
"I couldn't believe what I was seeing on the screen," said Matej. "My experience at the casino has been very good and I will continue to play here."
Matej is a VIP players at All Slots and often plays poker and Blackjack but opted for Caribbean Draw Poker once he noticed the jackpot amount.
"What a way to kick off the holidays," said David Brickman, Vice President for Player Affairs. "All Slots Casino is definitely the place to be this holiday season. We've got even more jackpots to be won and lots of great bonus opportunities like our Santa's Surprise promotion, to give our players even more chances to experience the magic of winning big. I'd like to wish Matej continued good luck on our games, and happy holidays to all of our players."
What a fantastic holiday win for Matej. We hope to see one of our very own Latest Casino Bonuses members win a jackpot soon.