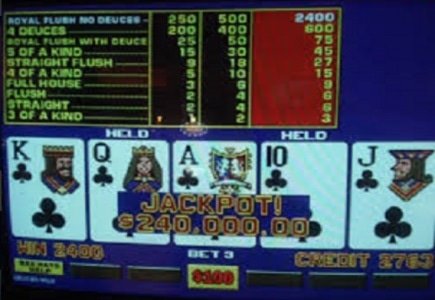 Before pulling up a chair at the Casino for Video Poker learn how to play first. It is staggering at the number of players who don't know how to play.
Sitting side by side next to some people will make you cringe at what they hold and what they fold. You can spot some of them right away when they thoroughly read the help menu. That's the first indication they are going to make a ration of blunders on hands dealt.
Unless you are looking at the payouts of a particular Video Poker game, using as a guide to learn how to play is a big no-no.
Here is a crash course on what to hold and what to throw away on a dealt hand:
· Two pair – Hold two pair only when there is not two face cards. Why? Two face cards can lead to four of a kind, a much bigger payout.
· Outside/Inside Straight – An inside straight is when only one card is needed in between the hand and the odds of getting that one card are slim, therefore toss it and save the face card or ace otherwise toss the entire hand if there isn't one. An outside straight is when a card on both ends will deliver a winning hand raising your odds.
· Two different face cards not suited – This happens way too often where players will save two completely different face cards not suited. What will you hope to gain, a pair? The odds of hitting four of kind are not high. Best to save one face card and have four cards dealt on the draw for a four of a kind.
· Kickers – There are many Video Poker variations and the payouts are right at the top of the screen in most instances. Know what kickers are in play to maximize a winning hand.
· Holding a kicker with a pair or three of a kind – Never hold a kicker in this situation, instead hold the pair or three of kind and hope for a four of kind and if lucky another kicker will be dealt in the draw.
· Four to the Royal Flush or a winning pair – The Royal Flush is the jackpot of all hands and is well worth the risk to throw out the pair in an attempt to land the big one on the draw. Same rule for a Straight Flush applies.
· Dealt a four of a kind without the kicker – Save only the four of a kind to draw the kicker on the next hand.
Some hands dealt can be tricky especially in the case of a Full House. An example would be three aces and two pair. It's a winning hand but it might be worth risking it for four aces paying out a much bigger return and tossing the two pair for the draw.
Three to the Royal Flush or save a winning pair is another debatable hand; to hold for the Royal or hold the pair. If you are not low on credits and having a good run, it might be worth the risk to throw out the pair.
Following these basic rules will produce better results in the long run and prevent the seasoned Poker player next to you from shaking their head in disbelief!