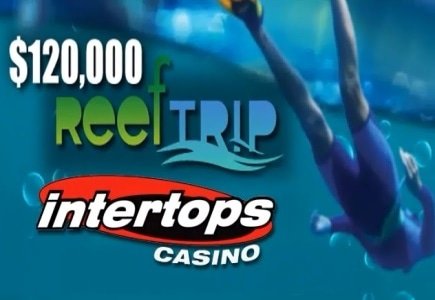 Intertops was founded in 1983. in London with a UK Bookmakers License, initially their area of business was sport betting. Later they moved their online business to Antigua, leaving the traditional sports betting business in Austria, where it was relocated in 1992. Intertops can proudly claim the world's first online bet, which they accepted in 1996. Always innovating, Intertops developed the first mobile betting app, soon to be followed by online poker operations and online skill-based gaming.
Today Intertops offers more than 500 online casino games from Realtime Gaming and Wager Gaming Technology, like the deluxe Crystal Waters slot game and Ocean Dreams with RTG's Win-Win feature. The casino's latest ongoing promotion is the $120,000 Reef Trip Leaderboard race. Players that place at the top of Intertops Leaderboard will get a share of $30,000 in weekly prizes. To position on the board they just have to play games and collect points. Every Monday until March 31th, player who earned the most points during the previous week will get an $800 bonus. Second, third and the next seven players earn $700, $600 and $500 which combine in total of $30 000 in bonuses for 250 players every week.
A regular at Intertops casino remarked: "A good day at the casino just gets better when they drop some bonus cash in your account," adding: "I mean let's face it, bonus money means more play time!"
Players that place in the top 15 any week during the month-long Reef Trip are eligible to participate in a draw
for a $1000 Cash Splash grand prize. The prize will be awarded to the lucky winner on March 31st. there is also a random draw every Thursday, awarding participants with up to $150 bonuses.
Intertops is an old timer in the online gaming industry, but that didn't stop them in becoming one of the industries' leading innovators. Today Intertops is proud of its worldwide reputation for excellent customer service and its wide selection in popular online games.