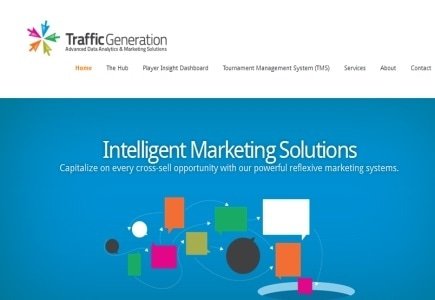 A new cross platform Tournament Management System (TMS) has been launched by Traffic Generation Ltd (TraffGen), a Gibraltar-based marketing solutions firm. TMA enables operators to run real-time tournaments smoothly, across land-based, digital and social channels. TMS is described as taking the hard work out of tournaments, automatically delivering targeted game play content across multiple platforms, simultaneously.
Features enable operators to:
- Design and operate fully customizable tournaments, leader boards, and team-based promotions.
- Customize rewards based on player segmentation
- Deliver tournament content into any platform including mobile apps & land-based slots, social and for-wager games.
- Drive player engagement by providing alternative methods of play and effective cross-market migration.
- Quickly deploy tournaments onto any gaming platform without significant client-side development.
"Cross-platform tournaments are truly revolutionary – not only are they a great way to link your brand through multiple products, but they also create the perfect opportunity to drive effective cross marketing to different player groups at the right time – allowing operators to maximize revenue in every aspect of their business. With no development required, our clients can have tournaments across products from all their suppliers in days, not months." Said Andy Caras-Altas, the chief executive officer of Traffic Generation.