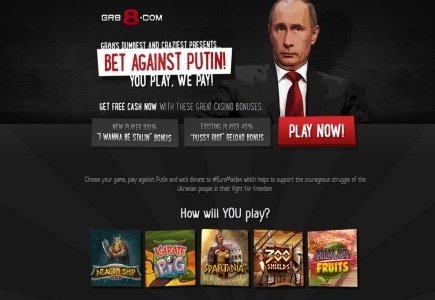 GR88.com has rolled out several promotions themed after some of the craziest events in the world.
Representing Gr88, Charles Exeter said, "The world is getting crazier by the minute and as a result we have decided to launch the 'GR88est Dumbest and Craziest Series'. In this series we pick actions that we believe show complete lack of humanity, blatant displays of crazy leadership or simply dumb actions by powerful people, wherever they are."
The series kicks off with Vladimir Putin's attempt at boosting the Soviet Empire and the launch of PutinBet.com.
PutinBet.com Bonus Promotions:
- Pussy Riot Casino Bonus
- It's a Crimea no matter what you call it Bonus
- 100% I want to be Stalin Bonus
In total, 25% of all net proceeds derived from games available on PutinBet.com will go to the EuroMaidan Charity in Kyiv.
GR88 encourages players to visit PutinBet.com to wager against Putin and support the Ukraine.