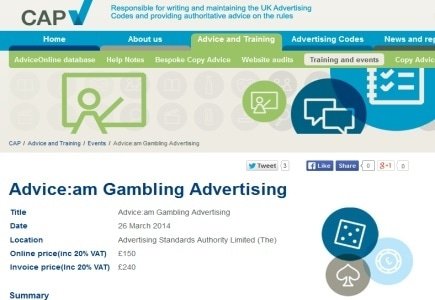 Based on the rulings against online casinos, the Advertising Standards Authority recognizes that marketers need more information regarding appropriate advertising.
The ASA plans to put on a seminar to discuss online gambling advertising with its Committee of Advertising Practice (CAP) and Broadcast Committee of Advertising Practice (BCAP).
The event is scheduled for March 26th at the ASA offices at Mid City Place, 71 High Holborn, London WC1V 6QT at a cost of GBP 150 for online registrations.
Topics up for discussion include:
• Understanding ad regulation - how the ASA and CAP work
• Ensuring a socially responsible approach to marketing
• Protecting children and young persons
• Preventing irresponsible appeals (e.g. to sexual success or gambling as a rite of passage)
• How to avoid encouraging problem gambling behaviours (e.g. solitary gambling or gambling to solve personal problems)
• Misleading advertising issues related to "free bet" offers
• Case studies and examples of ASA adjudications
More information is available here:
http://www.cap.org.uk/Advice-Training-on-the-rules/Events/Adviceam-Gambling-Advertising-26Mar14.aspx