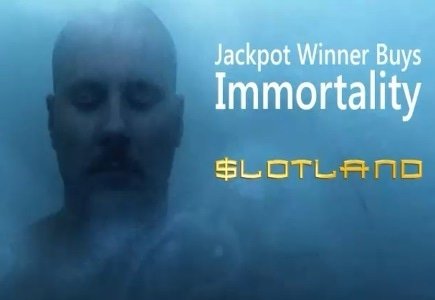 One big Slotland jackpot winner believes he will live forever after his $5,000,000 win.

Samuel J. broke a Slotland record with his jackpot win on the Too Good to be True slot game.

"I don't care who thinks I'm crazy," said the winner. "Maybe I am! But I won this jackpot fair and square and this is what I want to do with it. I'm going to see the future! If it's good enough for Walt Disney, why not me?!"

Why would anyone think he is crazy? Well, Samuel intends to have his body cryogenically preserved at the Everafter Cryogenics Lab in Palo Alto, California and wishes to awaked when his first great-great-great-great-grandchild is born.

"I'll leave my wife enough to get by on when I go," said Jackson, "But this cryogenics stuff is expensive so anyone else that's expecting to inherit some of my jackpot can just forget it."

"Haha… I hope no one falls for this," said Slotland manager, Michael Hilary. "It's so far fetched we figured everyone would realize right away it's an April Fools joke! For one thing, Slotland's progressive jackpot is won so often that it usually doesn't go over $200,000!"

Ha! April Fools. The Slotland jackpots are very real and currently stands at just over $85,000.