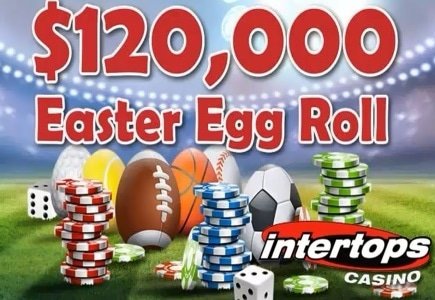 Intertops has an Easter surprise in store for players with the $120,000 Easter Egg Roll bonus giveaway!

Points are accumulated by playing Intertops games and each player with the highest weekly score will win bonuses worth up to $800 each. All rankings will be posted live on the Easter Egg Roll leaderboard. The top 250 players each week through April 28th will share in $30,000 in weekly bonuses while the top 15 weekly players will be placed into a random draw scheduled for the end of April for a chance to win $1,000 in cash.

"There are some friendly rivalries for sure," said Intertops Casino Manager. "Once you get near the top of the leaderboard you really want to go for it and win."

"I'm telling you, you can get more obsessed with your position on the leaderboard than how you're doing on the slots!" said one Intertops player.

Each Monday the player in first place will receive an $800 bonus, the second place player will receive $700, $600 is awarded to the third place player and the following seven players will receive $500. Also, each Thursday there will be $150 up for grabs!

Intertops Casino is the place to be this April so make sure you get in on the Easter action!