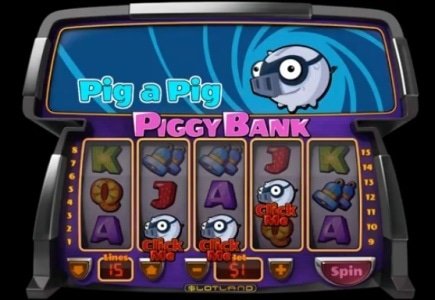 Regulars of Slotland will enjoy yet another game which has just been added to their already extensive list of real money online slots. They have titled this one: Piggy Bank. This brand new, classic slot is made up of three Bonus Reels as well as an exciting Pick-a-Pig Bonus Feature which has the ability to award up to 50x the original bet.

It will be no surprise to regular players that this game is well-equipped with a unique freebie which allows players to give this new game a go. All players will have the opportunity to take advantage of a $30 Piggy Bank Freebie. In addition $75 worth of Piggy Bank Bonuses are up for grabs daily. In order to retrieve the $30 Piggy Bank Freebie, simply input the redeem code: PIGLET 30. This offer is valid until May 2nd only.

A total of 25 random players will also be drawn daily until May 4th for the $75 Piggy Bank Bonus.

Betting requirements for the game include a minimum of $0.10 and a maximum bet of $15 per spin. The coin icon is your ticket to cash. When this appears anywhere on the reels, it will add the triggering bet to the Piggy Bank fund which is used in the Bonus Reels Game.

The appropriately chosen pig symbol is yet another indicator of cash. It serves as the Scatter and three of them will trigger the Pick-a-Pig Bonus game, which allows you to choose a pig in order to reveal one of three prizes which will be added to the Piggy Bank fund. Players may also choose to cash out their Piggy Bank fund or begin the Bonus Reels game.

The Bonus Reels game will appear on a separate 3-reel slot just above the main screen, using cash which has been acquired in the Piggy Bank fund.

Slotland is made up of 34 games, which can only be found at Slotland and all can be played via any electronic device which can access the internet. Each game has an enhanced version and Piggy Bank is no exception. This enhanced version is available for iPhone and Android users.