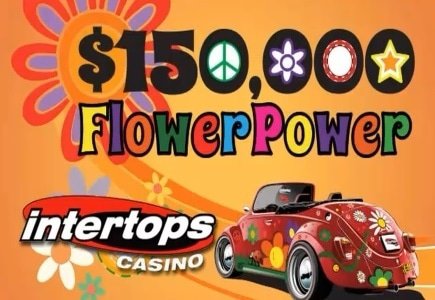 Intertops Casino is known for their selection of online casino games, which includes over 500 titles from Realtime and Wager Gaming Technology. Now players will have yet another element to look forward to.


Intertops Casino is launching an exciting $150,000 Flower Power Casino Bonus Giveaway. For over a month, 250 players will have the opportunity to rake in some serious cash every week in the $30,000 Weekly Leaderboard Contest. One lucky individual among the top 15 players will win a little extra, with an additional $1000 Total Bliss cash prize which will be awarded at the end of the promotion.


Make sure to pencil in your Thursdays from now until June 2nd. Each week, 50 players will have dibs on free bonuses via the Peace & Love draws. In relation to this newest promotion, Intertops' casino manager jokes, "We've had our April showers, so bring on the May flowers, dude…Mother's Day is coming up too, so we really just can't have enough flowers this month!"


There's no need to go out of your way to benefit from this promotion. Simply play and earn points. Players that earn the most points each week will be honored with a hefty $800 bonus every Monday up until June 2nd. The player in second place for the most points will receive $700 and $600 will go to the player in third place. Additionally, $500 will go to the next seven players.


When you add all that up, that means that every single week, 250 will earn up to $300,000 in bonuses. Players will also have the opportunity to see how they rank each week by checking the $150,000 Flower Power Scoreboard at any time.