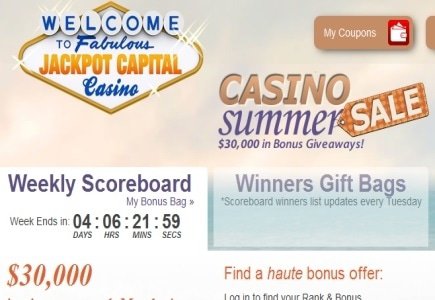 When you think of a summer sale, the first thing that comes to mind might be something like a garage or rummage sale; an opportunity to browse second-hand objects at bargain prices. Jackpot Capital Casino's version consists of something a little bit different and you're sure to like it a whole lot better!
This online casino is ringing in the warm weather with a $130,000 Casino Summer Sale. For this particular sale, you will be browsing wads of cash rather than used items. Jackpot Capital Casino is offering players across the globe the chance to qualify for a portion of $30,000 each week in Bonuses.
Simply play any of their real money games either on the web or via your mobile device for access to the cash. In fact, you might want to stick to your mobile device as those who do so will earn double the points.
Bonuses will be up for grabs each and every Monday up until June 16th. Hundreds of players will have access to hundreds of dollars and Bonuses (up to $800) will be based upon an individual's scoreboard ranking. In addition, Fridays will also deliver the dough. Fifty players will be chosen at random to receive what the site is calling, 'Sizzling Steals.' These consist of Bonuses which can be up to $150 each.
Forty of the total players will be drawn straight from those that make up the scoreboard, while the last ten will be drawn from those who are not on the scoreboard. Casino manager, Oliver Smith, is excited about these additional cash giveaways, stating, ""The new Sizzling Steals draws put extra money in players' accounts to help them play their way higher up the scoreboard. We've set it up so that casual players have a chance to win some Bonuses too."
$30,000 will be given away each week, with an additional $12,000 awarded by the Sizzling Steals, for a grand total of $130,000.
For more details on Jackpot Capital Casino's Casino Summer Sale, visit: http://promotions.jackpotcapital.eu/summersale