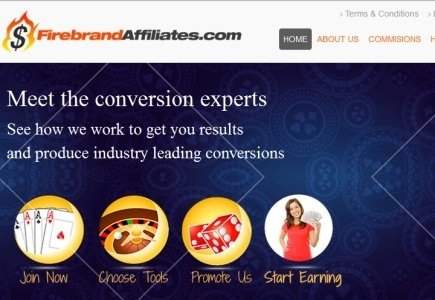 Firebrand Affiliates is a highly recognized provider of online marketing sources for a variety of websites. In fact, over 500 customers in 10 different countries utilize this affiliate program. More specifically, Firebrand provides its partners with useful resources in order to aid in their ultimate success. Even Latest Casino Bonuses has jumped on the bandwagon, having conjoined with them in 2012.
In simpler terms, Firebrand has a lot to offer, with quite a few top-notch features up their sleeve. Such elements include being the fastest paying affiliate program, extreme dedication, the acceptance of various currencies from around the globe, 24/7 player support, live stats & detailed reports and more.
They work with a number of customers you may have come across at one point or another in your gaming adventures. These include Atlantic Gold Casino, Treasure Island Jackpots and Mermaid's Palace Casino, to name a few.
More importantly, Firebrand Affiliates will be making a massive announcement in the very near future, regarding its newest casino brand: Tropicana Gold Casino. Set to be the next big thing, this would allow more opportunities for affiliates to convert traffic.
Upon its release, players will have dibs on a generous sign-up bonus and more. Keep your eyes peeled and your ears open for the official release date to be announced soon.