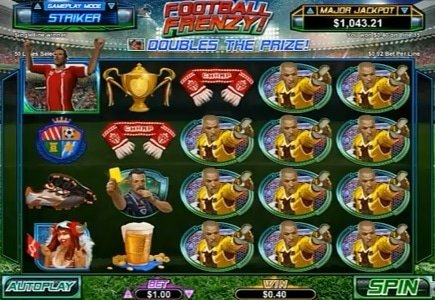 The exciting Football Frenzy Slot will now be accessible at Springbok Casino, a favorite online gaming site developed in South Africa. New to the site, this game will be offering players a chance at Free Spins which could very well lead to some big wins.

Football Frenzy is a unique game in which there are two playing modes to choose from: 'Striker' and 'Lucky.' Those who choose to play in 'Striker' mode will have the chance to win up to 100 Free games during which prizes are tripled, while those in 'Lucky' mode, the Lucky Feature Bonus may be triggered.

Gamers can get dibs on such Free Spins by voting for their favorite World Cup team. In return, individuals will receive a coupon code that will trigger a total of 15 Free Spins. Players can cast their votes at: https://de.surveymonkey.com/s/yourtip. The Bonus is valid up until June 11, 2014.

Though South Africa did not make it onto the list of qualifiers this year, the hope of Springbok's manager, Daniel is that they "will be back on the list of qualifiers next time." He further adds, "In the meantime, here's a way we can bring some World Cup excitement back to South Africa!"

Loyal Springbok players will have even more to look forward to at the site, with the newly added Ocean Oddities Slot, featuring 5 reels and 25 paylines.