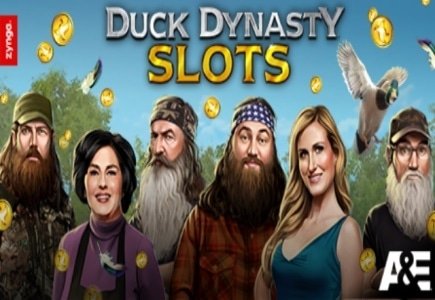 The game can be played across devices by connecting to Facebook, and players can also buy additional in-game currency, and can earn free coins every hour.
You may be familiar with this year's somewhat recent controversy concerning the reality show, Duck Dynasty. One of the show's main characters, Phil Robertson, previously made some ant-gay remarks that did not sit too well with the public.
Since then, gaming developer Zynga, has committed to launching a Duck Dynasty-themed game, running the risk of placing themselves in the line of fire as well. This brand new Slot from Zynga has been launched on an iOS platform. While playing, you will catch glimpses of the show's most popular moments, with said remarks conveniently left out.
The game offers various levels, naturally designating such levels with higher bet amounts as well as a limited time payout Bonus. This Slot is equipped with loads of elements relating to the show and punters will have access to a variety of mini games for a chance to double or quadruple wins. Gamers will also have the chance to buy additional in-game currency and rack up free coins each hour
Players can also access the game across devices. To do so, simply connect to Facebook.