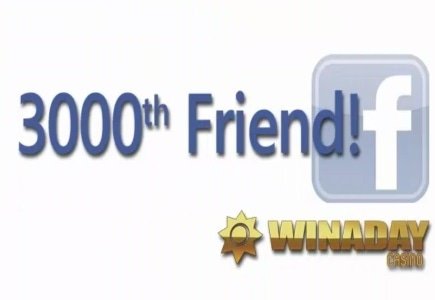 Win A Day Casino has been offering so many spectacular deals and promotions lately for their $500,000 birthday bash celebration, that they actually overlooked a very significant moment… well almost. During the last week of birthday bash festivities, something grand occurred; the site received its 3000th Facebook friend.

For those of you who are loyal members at WinADay Casino, you know that it was only natural for them to tack on yet another exciting promotion to celebrate this great accomplishment. They are running a special contest which can be accessed through their Facebook page. Those who choose to respond to the current question on their page, regarding their newest Pacific Victory penny slot, will be entered in a draw to win casino credit worth 50 smackers!

The winner of this draw is set to be announced on Facebook on August 4th. WinADay's Casino manager Michael Hilary, is thrilled with the site's latest achievement, stating, "Interacting on our Facebook page has become a big part of the casino experience for many players. It's nice when other people get excited when you win or sympathize when you don't."

Hilary further reflects on some of his favorite Facebook memories, adding, "My personal favorite Facebook times have been when we've run photo contests and players share pics of their holidays with all their WinADay friends… Christmas trees, Halloween costumes, -- players have shared some great stuff, let me tell you!"

Be sure to visit their Facebook page to enter the contest and their gaming site to get in on their wide selection of Slots, Video Poker and table-style Games.