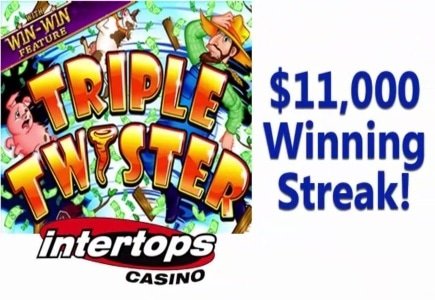 Intertops Casino has awarded yet another winner with big bucks. The most recent winner's title belongs to a nurse practitioner who accumulated $11,000 on the Triple Twister slot game. The slot is equipped with a Bonus round which can be triggered by three or more of the weather vane symbols. With just a mere $25 bet, the player was well on the way to thousands, thanks to the game's Wild animated Twister symbol.

Her initial thought upon seeing the balance quickly raise was, "OMG, I can't believe it! I've got to call my sister right away!"

The nurse practitioner also added, "When I saw that I'd won so much, I was shocked. I was in a feature in Triple Twister when I got a tornado in the middle. I was hoping it would move left, but was disappointed when it (initially) moved right. But then, it moved left as well, covered three spots, and paid 11k. I was jubilant!" One can only imagine!

This VIP player plans to use the cash to pay off some bills. However, not all of it is likely to go toward necessities. The lucky winner plans to spoil herself, just a little bit, with a possible vacation in the near future.

For those of you interested in trying out the slot for yourself, the recent winner claims it to be one of her favorites along with Mayan Queen. She also has a word of advice for those fantasizing about the next big jackpot win: "Stick with it and a big jackpot will come your way."

You might just be the next to win at Intertops Casino, a site that features hundreds of real-money gaming opportunities, ranging from Slot to Table Games.