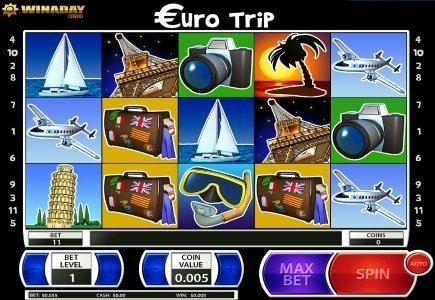 Win A Day Casino has just launched a brand new penny slot, which is available exclusively at their site. Euro Trip is a vacation-themed game which is equipped with killer Bonus features. Currently, the site features a total of 16 penny slots and you can bet they will continue to add more.
To celebrate the launch of the new game, members can take advantage of special bonus opportunities all week-long. $8 chips are being placed into the accounts of all those who log on between August 14th and the 17th, in addition to a 50% Deposit Bonus.
The new penny slot is made up of 11 pay lines and plenty of themed icons that aid in bringing the vacation theme to life. Coin values within the game range from $0.05 to $0.50 and there are five different bet level options.
According to Michael Hilary, "This time of year everyone's daydreaming about the summer vacation they've just had, or that they're about to take. So we thought this was a perfect time to introduce a game to remind us of the good times we have with our families on summer vacations!"
Gamers are already raving about the new slot. One, in particular, stated, "I love penny slots! "You can play for ages on just a few dollars. These days it's the most fun you can have for a couple of bucks!"
Players can also look forward to mobile versions of the game as well as other penny slots via iPhones, iPads, Androids or tablets. Log on and give Euro Trip a spin!