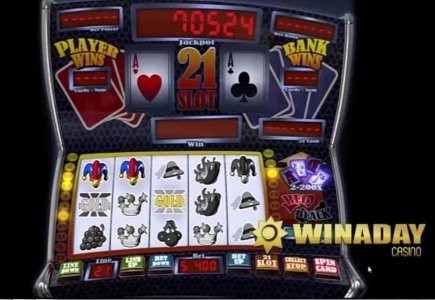 WinADay Casino is made up of a number of gaming opportunities, ranging from slots to table games and just recently added a slew of penny slots to its collection to celebrate its sixth birthday. Now, they have something else to celebrate, with the recent progressive jackpot winner, Sascha K from Germany. This lucky player snagged a whopping $226,053 win while playing Slot 21, resulting in WinADay's second largest jackpot win ever.

The slot is made up of 21 pay lines and delivers a unique take on a classic game of Blackjack, combining traditional slot features for an unforgettable gaming experience. Sascha truly struck gold after spinning five Crown symbols and obtaining the progressive jackpot, while betting over $5.

Sascha is ecstatic over the win, and who wouldn't be? He explained to WinADay customer service representative, "I've never ever been this lucky before. I've won some small prizes in the past but never this big. I only gamble occasionally, so it was a huge surprise." Sounds like this win was well-deserved!

The recent winner is having a hard time wrapping his head around the major win, stating, "We haven't decided what to do with the money yet -- we're still trying to actually believe that we won! We know we did as it was confirmed by the casino, but it's just so unbelievable. We have been talking about all sorts of investments. One thing we know is we won't be spending it all at once."

One thing is for sure; there is plenty of excitement to go around. The winner adds, "When I realized what I'd won, I started jumping around and shouting random words of excitement, the jumping then turned into weird dance moves. My amazing wife came running when she heard me shouting, then she danced along with me."

Slot 21 has quickly worked its way up to being one of Sascha's favorites: "I like Slot 21—it's like playing slots and cards at the same time. I also enjoy Vegas Mania, Hold the Riches, Sands of Gold."

If you're hoping desperately to come across the same fate, he's got some wise words for the average player, "My advice to other slots players is to play to enjoy the games. Don't go overboard, stick to your set budget and you will enjoy it. If a game doesn't seem to be hot, try a different one."

Log onto the site via your computer or mobile device for access to WinADay's growing gaming selection.