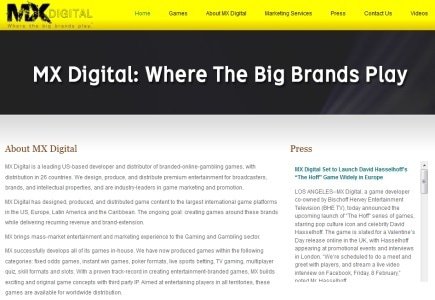 MX Digital, a game development company, has sealed a content deal with William Hill for six branded games. This contract marks the largest distribution agreement for the company thus far.
Eric Bischoff of Bischoff Hervey Entertainment and MX Digital co-founder said, "From its inception, our vision at MX Digital was to bring some of the best known Hollywood brands to the world of on-line waged and social gaming and the opportunity to reach the marketplace with William Hill is exciting for us and for our brand partners."
Branded games include Missing In Action featuring Chuck Norris, iconic epitome of coolness James Dean, BloodRayne, sports themed TNA-Impact Wrestling, Red Slam based on former NBA star Dennis Rodman and the infamous musical movie, The Blues Brothers.
"We were very pleased with the audience-appeal of MX Digital's recent David Hasselhoff slot," said Will Mathieson, Slots Operations Manager at William Hill. "High profile branded products like these are key to driving successful marketing campaigns and gaining new customers."