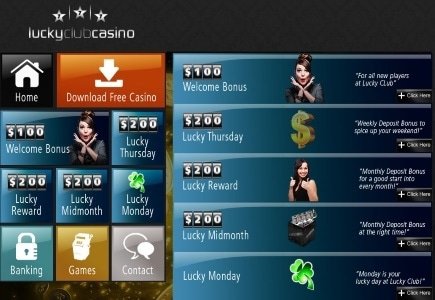 If you're looking for free cash opportunities, then you might want to head to Lucky Club Casino because they're hosting casino bonuses like crazy. This promotion will specifically consist of staggered bonuses. This means that players have to redeem each bonus to qualify for the next.

Gamers will first get the chance to participate in the Space Trippin' casino bonus, which consists of 100% back on up to $300. This first bonus will be followed by two additional offers up to $400, which include free spin opportunities on some of the hottest slots at the site.

Bonus opportunities will be available until October 31st. In order to participate in any of these, make sure to enter the appropriate coupon code when making a deposit.

Use the code, ASTRONAUT for 100% back up to $300, SPACETRAVELLER for 150% back on up to $400 plus 15 Free Spins on the Candyland Cash game, WORLDEXPLORER for 200% back on up to $400 plus 20 Free Spins on the Winning Shot game and, finally, SPACELORD for $30 in free cash,

Lucky Club manager, Alex Hunter, is excited about the latest promo, stating "We'll take you to places beyond your imagination; the far side of the moon, distant galaxies and to infinity and beyond!"

Feast your eyes upon various pies, cakes and cookies on the 25-line Candyland Cash slot, in which you can snag up to 50 free spins or get your adrenaline pumping while playing the Winning Shot, soccer-themed slot with plenty of free spins up for grabs as well.