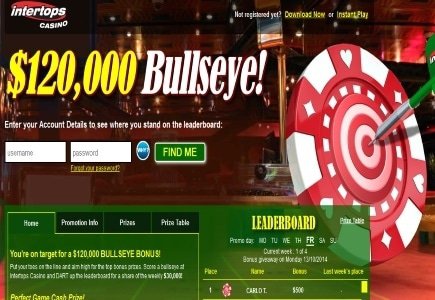 Mondays aren't exactly known for being the most exciting days. In fact, most people tend to dread them. However, Intertops Casino has just introduced a brand new promotion that is sure to make your Mondays just a little more entertaining.
The site is hosting a spectacular Bullseye Casino Bonus Event, which will give player's the chance to walk away with up to $120,000 this month. Each Monday, until November 3rd, the top players listed on the contest leaderboard will receive bonus cash. The top 20 gamers will each receive $500, the next 10, $300 and 20 additional gamers will each be awarded $150. A grand total of 300 players will benefit from bonus all throughout that final day of the promotion in November.
In order to rack up points to earn yourself a top spot on the scoreboard, simply play games at the site as usual and you will surely benefit. Player rankings are available here: http://casinopromotions.intertops.eu/bullseye
The end of the promotion will bring a Grand Prize opportunity worth $1000 as well as a whopping $120,000 awarded to a number of lucky players.
Intertops is known for exciting offers. According to one regular player, they are, "great for bonuses. It seems I'm always getting a bonus for something or other! I have to admit, I like that little extra thrill of checking my rank on the contest scoreboard, especially if I'm about to bump up to a bigger bonus category."
In addition, look out for Halloween-themed slots, Goblin's Treasure and Count Spectacular all-month-long.