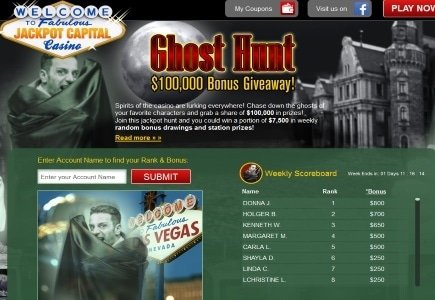 If you're looking for the best Halloween treats, pay a visit to Jackpot Capital Casino. All season, players can participate in the site's $100,000 Ghost Hunt for Halloween bonuses. The promotion will run between October 13th and November 17th.
Over $16,000 will be given away each week, with $500 being awarded to players based on their scoreboard ranks. In fact, at the end of the Halloween deals, nearly $5,000 is expected to be given away to gamers within all four levels. Members can easily learn points just by playing their favorite games. Current rankings can be viewed on the Jackpot Capital website.
The cash is set to be awarded as follows up until November 17th:
· $16,400 in weekly Score Board prizes
· $2,560 in weekly raffle draws
· $4,900 in extra prizes for players at all levels
According to one regular player, it pays to be in the higher levels: "I know you can win prizes even if you just play a little here and there, but let's face it, the prizes are bigger if you get to the top levels. And not so many players get there, so your chances of winning are better. Like I needed a reason to play a little more!"
Casino manager, Oliver Smith says, "They compete pretty hard for top bonuses, but our players told us they also really like the idea of getting random raffle prizes, so we decided to do more of that. Just log on and you could win a prize. What could be easier than that?!"
Be sure to check out Jackpot Capital Casino to take advantage of this great deal as well as hundreds of desktop and mobile games.