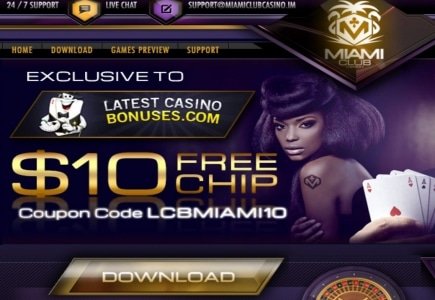 Charlie M had just registered with Miami Casino Club, powered by WGS software, and found himself on Miami Millionaire's Row by the end of the night.

Charlie M, of North Carolina, started out playing the Black Magic Vide Slot where he won nearly $20,000 after two very successful bonus rounds. The lucky players then switched things up a bit and played Jester's Wild, which is the latest game release on Miami Club. Players have the option to gamble winnings up to $60,000 with the 'Spin Up Your Win' feature. Wins can be increased as much as 5x abd Charlie M snagged another $12K. He increased his wager to $150 per spin, gambled another win on the wheel of chance and banked an additional $48K.

The player now had a bankroll of $125,000 and had earned over 1,000,000 comp points taking him from the beginning Flamingo level to Miami Millionaire's Row.

The Manager of Miami Club, Stephen Vaughan, said, "We knew that Jester's Wild was special when we first saw it. It has a lot of really great features and we felt it was going to be a hit with our players, but Charlie's results went above and beyond. What a night for him! We hope he enjoys the benefits of being a member of the exclusive Millionaire's Row and we look forward to many more great nights!"