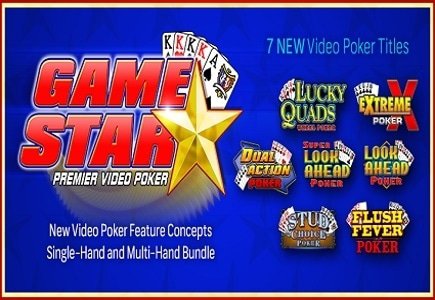 When IGT's Game Star releases new Video Poker titles players stand up and listen. As one of the highest rated, most popular software for Video Poker, it is a pretty safe bet you're in for premium products. There are 7 Video Poker games featuring new concepts available for single-hand and multi-hand bundles.
Flush Fever Poker – Introducing the Redraw feature, a max bet on a single-hand game is required to activate. When four to the flush hand is achieved the auto draw bonus is initiated continuing to draw until a winning hand is produced.
Stud Choice Poker – An ideal Poker game for Stud fans who can choose to pay 5, 6 or 7 Card Stud. Select one of two hands and then pick 5, 6 or 7 card pay table. Once the pay table has been chosen your remaining cards are used to complete the Stud hand.
Extreme X Poker – This game features a multiplier during the Fever Games. Play a max bet and a Full House or better will award the Fever Games.
Dual Action Poker – Highlighted are two pay tables. The single hand game allows players to choose a combination of two pay tables. Both pay tables are awarded wins.
Look Ahead Poker – Player have the advantage of seeing the next card in the deck. With a max bet view the next card but players cannot choose to burn the card on the draw.
Super Look Ahead Poker – Players can see the next card in the deck but have the extra advantage of keeping the burn card in the deck after the deal.
Lucky Quads Wheel Poker – The Wheel feature is highlighted here. Receive a Bonus Wheel spin for every four-of-a-kind, five-of-a-kind with one deuce or four deuces.