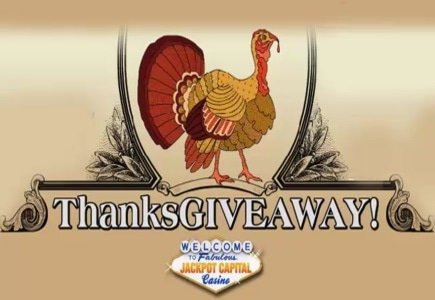 With the American Thanksgiving holiday just around the corner, casino sites are rolling out the promotions. The Las Vegas-inspired platform that makes up Jackpot Capital Casino is one of the latest to do so and will be rewarding its loyal members with what they're calling an exciting Thanksgiveaway.

All the way through the end of November, members will have full access to a variety of Thanksgiving treats, ranging from free spins, to match bonuses, Amazon gift cards and cash prizes.

In total, there are five deposit bonuses up for grabs, offering up to $720 in match bonuses. Following these five, there will be a generous, $25 no-deposit bonus. Access to these coupon codes is available at Jackpot Capital Thanksgiveaway.

In addition to all of the previously mentioned excitement, a total of thirty lucky players who have spent an ample amount of time at Jackpot Capital throughout the month of November, can look forward to the Thanksgiving Day Turkey Hunt Draw, during which cash prizes as well as Amazon gift cards worth up to $100 will be available.

Players can also take advantage of free spins. Oliver Smith says, "For those that want to take a few spins between football games and turkey dinners, we're giving ten free spins on Hen House on Thanksgiving Day." Anyone who deposits between November 1st and 25th will have free spins waiting for them immediately upon logging in on November 26th.

Don't have a lot of time with your busy schedule to join in the fun, but wish you could still take advantage of some of the many perks being offered at Jackpot Capital this month? Keep in mind, they also offer a mobile site, allowing you to use your mobile device to play from anywhere at any time.