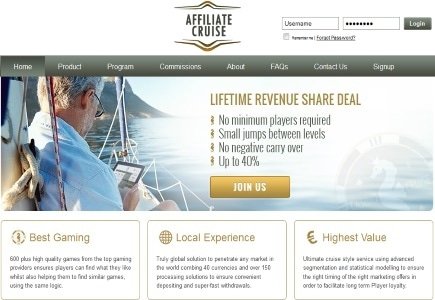 Associate program for the online and mobile casino operator CasinoCruise which launched in September of 2014, Affiliate Cruise, has recently been awarded platinum certification by igaming community Affiliate Guard Dog. Launched in 2006, Affiliate Guard Dog's purpose is to aid in creating a set of terms and conditions, convenient for affiliates.
As a result of this recent attainment, Affiliate Cruise can now be officially recognized as a dedicated entity, working to protect the interests of those who sign up to the program. Additionally, its management team can now freely cultivate an open discussion with new and existing affiliates.
Those who sign up through Affiliate Guard Dog will have access to an exclusive deal sponsored by Affiliate Cruise in celebration of the recent news. This will consist of 40% off revenue share for the first three months and 35% for three months following.
Any that take advantage of this can expect a tiered rev share commission structure as standard in which the lowest of six levels is at 25% and the highest is at 40%. Visit www.affiliatecruise.com for additional details on this program.
According to affiliate director of Affiliate Cruise, Lloyd Apter, "Only a handful of programs attain platinum status at Affiliate Guard Dog, and we believe our inclusion is testament to the strength of our work. We will use this opportunity to demonstrate to our affiliates that they are on to a winner when bringing players to CasinoCruise.com."
President of Affiliate Guard Dog, Andrew Mueller, adds, "At AGD, our platinum certification is reserved for the very best of affiliate programs. With a strict set of criteria, we hold programs to the highest of standards. Affiliate Cruise has met and exceeded those expectations."