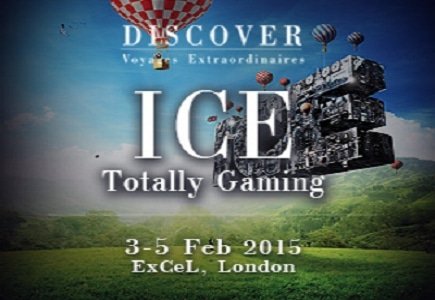 ICE Totally Gaming 2015, international gaming's event of the year, will be held at Excel London through February 3rd and 5th. Free registration to the event is available here: FREE Registration. Aside from the expected festivities, visitors can also look forward to a series of events sponsored by GamCrowd.com and Clarion Events, which are set to take place during the show, in order to provide the best possible experience. This is the second time we have seen them join together. The first took place at EiG 2014 in which they collaborated to run the Start-up Zone and a series of interactive talks and events.

More specifically, these individual events which have been designed by GamCrowd aim to benefit all who attend ICE, including entrepreneurs, investors and first time visitors as well. Throughout the three days of, entrepreneurs will be given the opportunity to pitch live via a platform provided by Pitch ICE. They will be pre-selected before the show and will 15 minutes to sell their idea.

GamCrowd will also dedicate an entire day to workshops and seminars on Tuesday, February 3rd, ideal for those hoping to learn the ropes of the business world. The workshops and seminars will cover the entire start-up process. Additionally, individual mentor sessions will also be set aside for start-ups and venture capitalists.

In addition to the business side of things, one cannot forget about the gaming aspect. All slots will be filmed and shown online. A public vote to take place over the two weeks to follow ICE 2015, will decide the top pre and post funding proposals. A winner will be chosen from two categories and will gain access to GamCrowd's expertise as a result.

Chris North, CEO of GamCrowd, adds in his two cents on the ICE 2015 event, stating "ICE challenges conventional thinking and wisdom, while offering the chance to discover new opportunities for businesses and individuals, which also neatly sums up what GamCrowd aims to achieve," said North. "The betting and gaming industry start-up community is a burgeoning one and we hope that our partnership with Clarion Events – and particularly the creation of Pitch ICE – will help to nurture innovation and entrepreneurship to even higher levels."

Betting industry writer and long-time supporter of the event, Jim Cremin, calls ICE "inspirational in so many ways, and that makes it priceless for all involved. It's a perfect mixture of hard-nosed business set against a backdrop of gaming innovation as well as providing an opportunity for the industry to meet old friends and make new ones."

Visitors may also look forward to Racing Post playing a role in the event. As a renowned brand in betting, they will serve as a main hub for the betting industry to get to know prominent decision makers as well as discuss and receive feedback on new ideas and concepts.