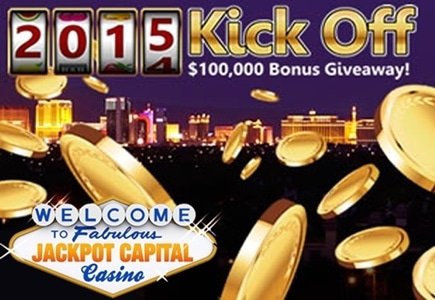 You don't have to look far to find something to look forward to in the new year. In fact, look no further than the Las Vegas-inspired, Jackpot Capital Casino. To ring in the new year with a bang, they will be offering members more than their hundreds of titles from Realtime Gaming, accessible via both desktop and mobile devices.

To celebrate 2015, the site will be hosting a $100,000 giveaway, spread across various Bonuses, including $10,000 in weekly scoreboard prizes as well as $40,000 worth of random drawings, all set to take place each week up until February 16th.

Points can rack up very easily for players. They can be earned simply by playing games at the site. Additionally, as points are earned, members will be ranked on a weekly scoreboard by the amount accumulated. Those who are lucky enough to snag the top 200 slots can look forward to $500 each in Bonuses every week. As an added perk, each Friday means an Extra $150 each for randomly selected players.

For a more detailed look at the contest or to check out the latest rankings.

Jackpot Capital Casino manager, Oliver Smith, says "Sure, we like to reward our frequent players. But throwing some random bonuses into the mix gives everyone a chance to win some bonus money, even if they just play occasionally."

Don't miss out on this exciting promotion, and while you're at it, check out the brand new Wild Wizards slot game, which has become one of the most popular at the site.