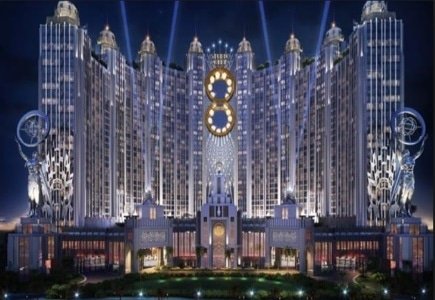 Melco Crown Entertainment Ltd. has constructed a new casino complex in Macau. The complex, designed to resemble Gotham City, cost $3.2 billion to build and will offer a few unique attractions.
Studio City will be a family oriented destination with the tallest Ferris wheel in Asia known as the Goldeneye. According to publicity, the Golden Eye feature was designed after "two asteroids shooting through a Gotham City building". Kids and adults alike will enjoy the go-karts and much more.
The Batman and Gotham City themed casino will also house a 5,000 seat stadium and 30,000 sq ft mall; a virtual reality Batman ride and Wonder Woman go-karts; 1,600 Art Deco rooms; dining halls and themed restaurants; and a TV studio called Studio 8.
Studio 8 will have enough seats to accommodate a 300 person audience to watch filming a new reality show.
The Pacha nightclub is known for its location in Spain and now has a second high profile him in Macau inside Studio City.
Studio City is not only an entertainment destination but Melco Crown Entertainment is making 8,000 jobs available with its new construction. The company will offer attractive pay and management scholarships. In fact, the hiring began last year in preparation for the grand opening scheduled for mid-2015.
As for the casino itself, it will feature approximately 1,500 Slots they are striving to have at least 400 gaming tables in operation in time for the opening.