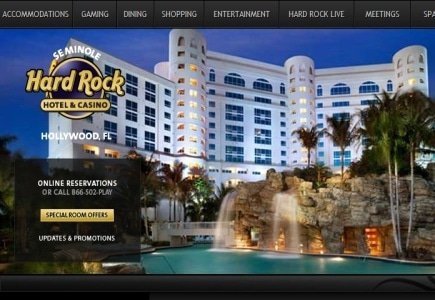 The Hard Rock brand, owned by Florida's Seminole Indians, may finally make its way to Atlantic City. An important meeting will be held on Thursday, January 28th, by the New Jersey Casino Control Commission, in order to potentially begin the process of approval for the brand to establish a casino on Atlantic City ground.
Preliminary efforts have already been made by the brand, as noted in a regulatory filing, they have had "a long-standing interest" in the market. In fact, almost a year ago, the company applied for a 'statement of compliance,' which serves as one of the first steps toward becoming licensed to own a casino in New Jersey.
President and CEO of Hard Rock, James Allen, has made no comment on the matter, but Hard Rock maintains that it "remains interested in the Atlantic City casino industry and may, if found qualified, engage in a business or activity that would require the issuance of a casino license. The issuance of a statement of compliance to Hard Rock Atlantic City will enable it to act quickly if an appropriate investment opportunity arises in the Atlantic City casino market."
With four of Atlantic City's hotels having closed last year, and three of them in bankruptcy, the Hard Rock brand's plans remain unclear, especially after a previous 'boutique' casino-hotel with a rock 'n' roll theme idea being scrapped in 2011 "due to current market conditions." In response to the abrupt decision, Hard Rock commented that they have "not eliminated this location for a future endeavor."
As a result of Atlantic City's crumbling state at the moment, they have hinted that they may very well drop previous requirements which stated all new projects must be new construction, in order to make room for existing structures to be converted at lower costs.