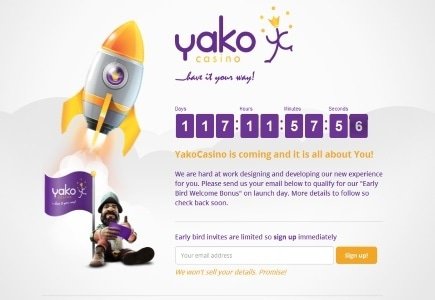 New online casino, Yako Casino, featuring EveryMatrix software, is expected to launch during the second quarter of 2015.
The design was done by Blend Digital Agency and is described as "a disruptive innovation in the gaming industry offering online casino players a fully personalised customer experience, focused on you – its' target audience."
"We firmly believe that EveryMatrix has the technical back-end resources to take personalization within the gaming industry to new heights," said Sarah Psaila, chief marketing officer for Yako Casino. "We are extremely excited to get this show on the road and firmly believe we are now in the best position to deliver a casino which is truly yours!"
The owner of the new casino has not yet been named but its chief marketing officer is the former casino director for Mr Green & Co AB's Garbo online casino, casino product manager for Tipico and affiliate director for Betsafe.
"I'm extremely impressed with Yako Casino's impressive skill set and experience and strongly believe that this new partnership will bring EveryMatrix one step further towards reaching its full potential," said Ebbe Groes, chief executive officer of EveryMatrix.