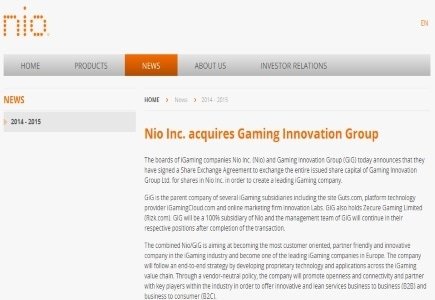 iGaming company Nio Inc. has signed a share exchange agreement with Gaming Innovation Group (GiG) parent company of Guts.com.
As a result of the deal, the companies will exchange shares leading to GiG becoming a Nio Inc. subsidiary pending shareholder and regulatory approvals.
Additional GiG subsidiaries are iGamingCloud.com, Innovation Labs and Secure Gaming Limited (Rizk.com).
"The agreement strengthens Nio's iGaming position, capabilities and value creation potential", said Kjetil Myrlid Aasen, chief executive officer of Nio.
"GiG is teaming up with NIO with a clear vision – combining valuable iGaming knowledge and experience to create a platform for investments in industry leading people, products and services", said Robin Reed, Managing Director GIG.