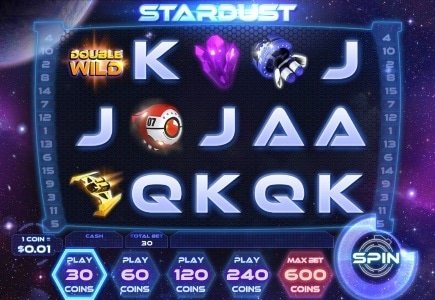 Popular online casino destination, WinADay Casino, has recently launched their latest slot offering, which travels at warp speed to a computer screen near you. Stardust is a space-themed slot which is very high quality in design, but allows for players to enjoy it thoroughly and bet with fairly low wagering options.

WinADay Casino manager, Michael Hilary, proclaimed "This one sort of falls somewhere in between our premium games and the penny slots, it's a fairly basic game, but we did include a cool bonus game that our players love – a chance to pick up some extra prize money."

The betting features of Stardust include 15 active paylines, coins which can be assigned various values that are easily negotiable in coins or dollars, and the option to wager different betting rates per spin. One player noted "The max bet is only six bucks. You can have a lot of fun for pennies" and also commented "The bonus game is quick and easy – but it pays well!"

An additional prominent feature of Stardust is its inclusion of 'Double Wild' and 'Pick Me' bonuses. The 'Double Wild' is capable of instantly doubling the payout on any winning combination it is a part of. For players that enjoy bonus games in their slots, the 'Pick Me' bonus is a game triggered when at least three pink crystal symbols appear, and players get the opportunity to select one which may have a 500X multiplier hidden within it.

Players are raving about the latest slot, with another player commenting "I kept hitting the Double Wilds. And then I kept making the right choices in the Pick Me bonus games and won 5000 coins a few times, this game seems pretty loose to me – I had no trouble winning enough to keep me playing quite a while."

Be sure to check out Stardust, and all of WinADay Casino's numerous game offerings at their home site.