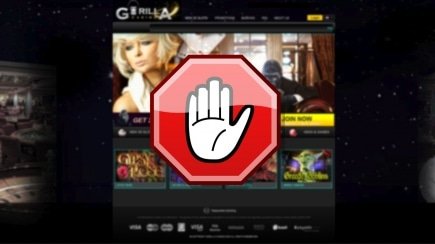 GorillaCasino has been placed on LCB's warning list and its representative has been removed from our list of approved casino reps.
Things began to look a bit fishy in February 2015 when a member reported being charged fees to receive a payout to an e-wallet. This is unusual but there were no reports of non-payment at this point. Within days another member reported waiting two months for a withdrawal of 1,550 Euros. The player made several attempts to contact live chat having waited for hours only to be ignored. It was then that the member took to the LCB forum for some help. The player had previously received a smaller payout of 160 Euros from GorillaCasino.
The Casino Rep claimed that the Fraud Department had proof that the player was defrauding the casino by using the Martingale System while playing Roulette. The player claims to have never played Roulette at GorillaCasino.
LCB made attempts to mediate on behalf of the member but the casino stopped responding to our emails. There is nothing in the casino's terms and conditions that prohibits the use of the Martingale System. Even if there was, this strategy is not illegal and doesn't give a player an advantage over the casino.
The player claims to have played Slots and Blackjack so LCB requested the history from the casino, which they failed to provide. As a result of non-payment to players, ignored communications and failure to honor its own terms and conditions, GorillaCasino and its sister site, 770Red Casino, have been placed on LCB's Warning List.
We recommend that players avoid these brands at all costs. As it stands, there is no indication that you will be paid and claims with both casinos remain unresolved. More details :
GorillaCasino and 770Red Casino complaints