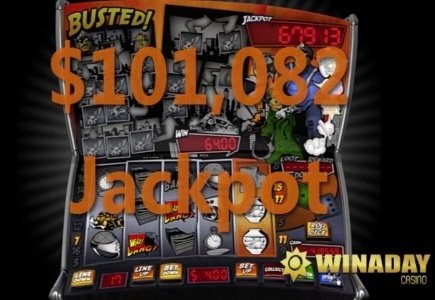 WinADay is certainly living up to its name, and has just recently had another big win, in which lucky player, Mary J., scored the latest progressive jackpot. This win marks the second major one that has occurred this year, with the first having taken place back in January, awarding a young mother with $205, 200.

A regular at the casino for over three years, Mary J. accumulated a whopping $101,082, earlier in the month of March, while playing the Busted slot. The slot features a comic book-style theme, and is equipped with an exciting Bonus Game, giving members even more reason to play.

While she struck it big while playing this slot, she admits it is not typically her first choice: "My all time favorite game at WinADay is actually Leprechaun Luck," said Mary. "And then probably Grand Liberty – it's just so American!"

The lucky player reflected on her recent win to a WinADay customer service agent, stating, "My jaw dropped and I couldn't stop screaming! I've never, ever been this lucky before! There are so many things I'd like to do with this money right now. I wouldn't want to make any rash decisions though, so I'll start by paying some bills."

Despite her wish to first be practical with her recent fortune, she also hopes to squeeze in a dream of hers. She further added, "I must admit I have the urge to go on a two month trip around America, but I'll wait for reality to hit me then see what I'll really do."

Another big win is surely on its way. Most of WinADay's instant play casino games are tied to one progressive jackpot, meaning that it is awarded fairly often. In fact, after Mary's win, it was reset and has already made its way up to $65,000.