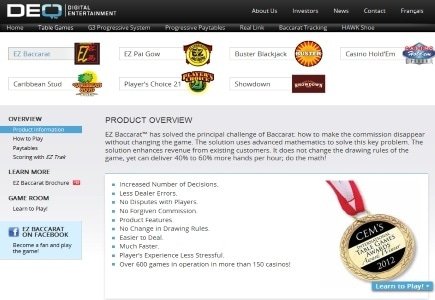 Online software provider GameAccount teamed up with DEQ Systems Corporation to develop and release a new Baccarat game called EZ Baccarat.
EZ Baccarat available via GameAccount's Simulated Gaming platform with Foxwoods Resort Casino Connecticut as the first customer to offer the game. Pennsylvania's Parx Casino and New York's Empire Casino will pick up the game soon.
"This will be our first baccarat product online for Simulated Gaming, allowing our casino operators to tap into the lucrative online baccarat sector," said GameAccount chief executive officer Dermot Smurfit.
"EZ Baccarat online will be augmented as an experience with exciting hourly, daily and weekly tournaments and the addition of this game to our product portfolio further validates GameAccount as an independent provider working with many different casino equipment manufacturers to bring their gaming experiences online for the benefit of their traditional customer – the land-based US casino operator."
Joseph Bertolone, chief executive officer of DEQ Systems, said, "EZ Baccarat's brand identity will promote a bridge from the online experience to the land-based option for our dedicated players. We believe that GameAccount's Simulated Gaming is the right approach for both DEQ and our land-based casino customers."