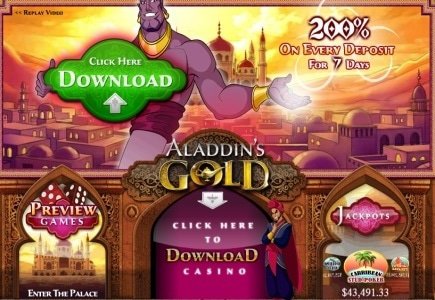 The place to be playing this weekend was Aladdin's Gold Casino it would seem, as four very lucky players walked away with a combined jackpot total of over $220,000. No special promotions were being run during this uncanny, but fortunate series of wins.

Carl, a representative for Aladdin's Gold commented on behalf of the site stating, "It's always exciting to see a player enjoying a round of good luck. It was pretty incredible to see four players having winning streaks at the same time!"

Two of the lucky winners were reached for comments. 'Lillian' was the big winner of the weekend, winning over $90,000 on the progressive jackpot while playing the popular slot, Megasaur. Lillian commented on her approach to playing with persistence being the key, "I always say stick with the spins. I do $125 bets and just when I'm about to give up, I spin a couple more times and I tend to get my money back. Last night, for example, I'd played over $1000 and then won $1800 back, so you just have to be patient. "

Lillian's plans for the money are very respectable, "I play for more of the fun of it. I nearly fell out of my chair I was so stunned staring at the screen! My parents live back East, so I'll save this for the holidays and spend it with them."

The second big winner is 'Lisa', a hard working accountant and winner of over $75,000 from the progressive jackpot while playing the slotSpirit of the Inca. Lisa's tip to playing is having the right mind-set, "Make sure you play to win, and have patience. I've been really successful and it certainly seems to have worked for me."

'Lisa', a 49 year old accountant who works for her father-in-law, won a progressive jackpot of over $75,000 playing the Spirit of the Inca slot game. She said she'll be sensible and pay off some debts, but since she doesn't owe much she'll have plenty left for a holiday.

Lisa has responsible plans for the money that primarily includes paying off some debt and enjoying a nice vacation.

"My daughters love Las Vegas so we'll look at taking a vacation there." Lisa commented.

The third and fourth jackpot winners from this weekend came about from playing the new Wild Wizards slot and the classic Let 'Em Ride,each receiving $30,500 and $10,000 respectively.