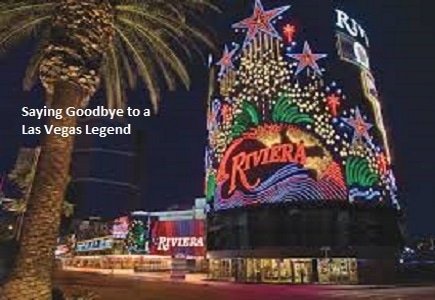 It is official the Riviera Hotel Casino closes May 4th at 12:00pm according to a news release. The legendary landmark was sold to Las Vegas Convention and Visitors Authority in February for an estimated $191 million. As a result 1,000 people will be out of a job. On April 20th it will mark the 60th anniversary.
"We greatly appreciate the expressions of fondness and loyalty for 'The Riv' from our guests since ground first broke in 1954 and through the years. More importantly we want to acknowledge and applaud our associates who have worked to create enduring memories for all of our guests," the release said.
"This is what will be remembered long after the walls have come down. We look forward to making the coming weeks fun, exciting and memorable."
In 1955 the Riviera made its debut unfortunately it has been in bankruptcy 3 times in the last 50 years. It is uncertain what the plans are to replace the building but speculation suggest it could become a transportation center for the Global Business District.
The Riviera was the first high-rise hotel erected on the Vegas Strip. The $10 million project featured at the time 291 rooms and was within one day of the opening for Royal Nevada and the Dunes a month later.
A lavish grand opening on April 20th 1955 headliners like Liberace and Joan Crawford as the official hostess was on hand to greet guests.
The lobby had Italian marble elegance with corrugated cooper fixtures. Starlight Lounge located just off the main lobby had a 150 foot stage bar with brass fixtures and a teal blue sky canopy. It was The Treniers who opened with a rock and roll style that kept the lounge hopping into the early morning hours.
In the 1960's it was Dean Martin, and Barbara Streisand who were the top entertainment. The 1969 famed movie Bob & Carol, Ted & Alice featured the Riv Hotel. New Year's Eve 1990 Frank Sinatra performed for an audience of over 2,000.
The blockbuster hit Casino starring Robert DeNiro, Joe Pesci, Sharon Stone, James Woods and Don Rickles was filmed at Riviera but only between specific hours as to not interfere with players.
A fond farewell will soon turn to rubble but memories and stories of Riviera's heyday will live on forever.