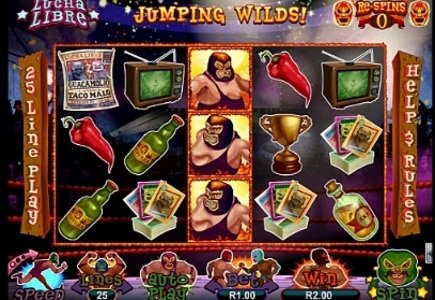 South African based Springbok Casino is promoting an all-new slot with an all-new promotion. The latest offering from Realtime Gaming,Lucha Libre, brings the excitement of high-flying wrestling to your computer screen. And Springbok Casino is offering up an R1500 Casino Bonus for trying it out.

From now until April 30th, the promotion is 150% on up to R1500 deposits. Manager for Sprinbok Casino, Daniel van Wyk, is emphasizing the fun aspect of this new slot by stating, "If you've ever had a good laugh over the antics of television wrestling stars like Hulk Hogan then you'll love Taco Malo and Guacamolio in this game!"

Lucha Libre is jam-packed with features, including double prizes, grouped wild symbols, and a 'Mask of Doom' bonus game. This latest offering is also added to Springbok's growing library of mobile casino games, making it even more accessible to players. Springbok is home to many offerings from Realtime Gaming and its mobile casino offers a small, but diverse selection of 27 offerings.