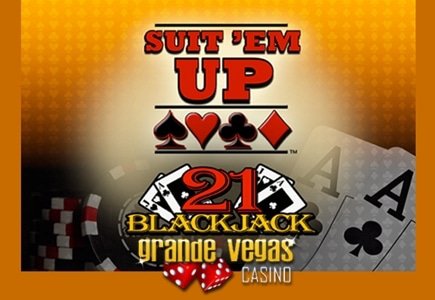 Players will have something new and exciting to look forward to at Grande Vegas Casino. The online casino is well-known throughout the world for its Realtime-powered slots, but they have just recently introduced a new game better suited for its members who enjoy the live-action feel that goes along with table games. Suit 'Em Up Blackjack is the title of their newly launched blackjack game. The game is available in all formats offered by the site, including instant play, download and mobile versions. It can be played using 2, 6 or 8 decks, and offers a low house edge.

If you're looking to give this new title a try, be sure to pay a quick visit to the casino's Facebook Page, which features all the details on current coupon codes and promotions regarding this game

One thing to look forward to during play is the side-bet opportunity. Robert Miller, Grande Vegas Casino manager, stated, "Wager on the side bet and if the first two cards are the dame suit you can win some cash." It is possible for gamers to walk away with up to 60:1 payouts by placing a bet on the suit of the first two cards dealt.

This newest addition marks the site's achievement of offering close to 30 exciting games within its mobile collection. A new mobile casino player at Grande Vegas explains, "Just go to the website and when it figures out you've got a smartphone or tablet, it'll just give you the special mobile versions of the games. Bigger buttons, basically. Otherwise they're the same!"

Players can head to the site now to experience all that this latest blackjack addition has to offer. Don't forget to first check for any bonus codes on their Facebook Page that may benefit you during play.