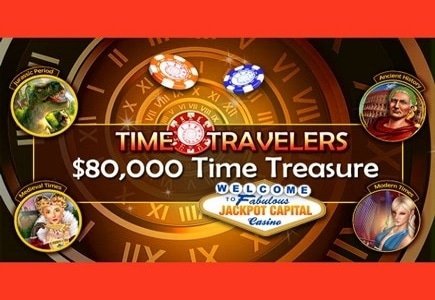 Members can travel to places they have never been before, both near and far in Jackpot Capital Casino's Time Traveler casino bonus event. Opportunities to win weekly bonuses up to $500 are up for grabs during this sightseeing extravaganza as well. In fact, a grand total of $80,000 will be awarded throughout the period in which this promotion runs its course. While half of this cash will go to members who land one of the spots at the top of the Scoreboard, the other half of it will be awarded randomly to lucky players.

In order to earn a spot on the Scoreboard, members must actively play at the site. Points are earned by playing and wagering, and based on those points earned, members will be ranked accordingly on the Scoreboard each week until June 15th. $500 will be awarded to each of the top 200 players. There are four total stations or tiers which players can move through, and each week, individuals will be chosen at random for a $100-$500 prize. More details can be found at the site's promotional page.

Jackpot Capital manager, Oliver Smith comments on this system of rewards, stating, "Of course we like to reward frequent players with Scoreboard prizes. But we want occasional players to have a chance to win too, so half of the prize money is randomly awarded as well."

A regular player commented as well, adding, "You get your bonus on Monday which is great timing. The 'Fourth-Dimension Friday Bonus' really helps me move up the Scoreboard over the weekend so I get a bigger bonus on Monday! "

In addition to hosting its latest promotion and allowing players to travel the world and win lots of cash at the same time, Jackpot Capital also offers hundreds of Realtime games, and dozens of mobile casino offerings. To complete the package.